Learning and thinking about ethical concerns within the medial field is what two students are doing in the philosophy internship program with St. Claire HealthCare.
Kyland Carreon and Emma Gundler are able to get practical experience in ethics that they might not get with idealized cases in the classroom by observing doctors on patients' cases in different departments.
"There is no person that I've seen with a disorder and it's been exactly what I thought it would be because there are so many other factors that go into it," said Gundler, a junior psychology major at Morehead State University.
Gundler worked in the behavioral health unit and sees herself one day working one-on-one with youth outside of the hospital setting. She said the policies don't allow contact between patients outside of the hospital for the patient's mental well-being.
"I'll be walking to class and wonder how that person is doing," she said. "With adolescents you can kind of be with them every step of the way."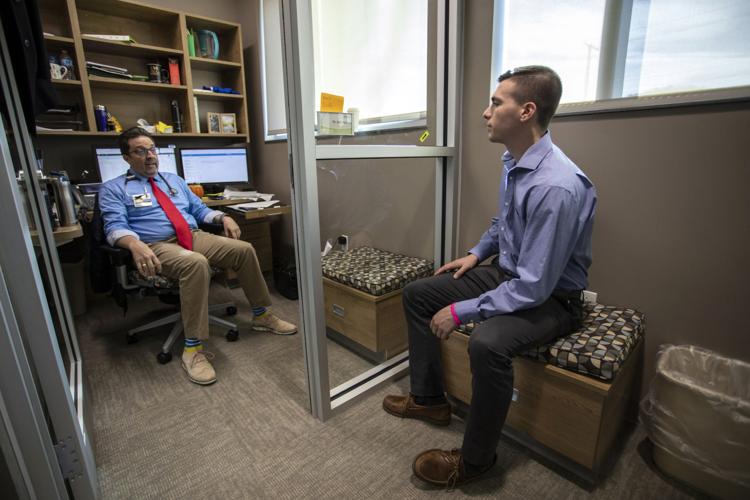 The types of ethical dilemmas they are presented with are questions about quality verses quantity of life, treatment options and general diagnosis giving layers of complexity. They will each choose a particular case they witnessed to discuss in a presentation at the end of their internship.
"You can treat the cancer and prolong life but those treatments are also very unpleasant and can make your quality of life lower," said Carreon, double-major in philosophy and legal studies.
Carreon followed Dr. John Sanders eight hours a week in the hospice and palliative care unit. He will be giving his presentation on an attempted suicide case that led to kidney failure. The patient had to decide to go on dialysis or not, after being treated for depression.
Dr. Sanders said every hour he is making ethical decisions and judgements about treatment for a variety of patients.
"I don't think people a lot of times realize how not cut and dry medicine is," said Dr. Sanders.
The philosophy internship program began when Professor of Philosophy Dr. Scott A. Davison came up with the idea while he was looking for local opportunities for philosophy students.
He said that discussing specific cases can create a conversation that everyone related to the case can benefit from.
"Often times it has to do with policies, sometimes at the state or national level, about how things are classified, how things are paid for and how people are treated that we can't really control directly," said Dr. Davison, who also sits in on the ethics board at the hospital.
There will be two other interns for the Spring 2020 semester. Anyone interested in the internship for Fall 2020 should send an email to s.davison@moreheadstate.edu explaining their interest and background in philosophy.